Customs Clearance time limit has been further improved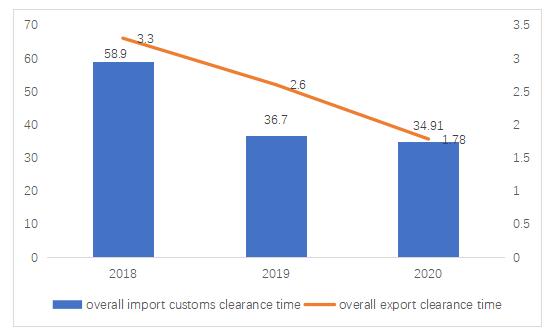 In 2020, the customs actively pushed forwarded the business reforms of "Declare in advance" and "two-step declaration", steadily push forward the pilot projects of "ship-side direct loading" for imported goods and "reservation declaration" and "arrival direct loading" for export goods, and significantly increased the time limit for customs clearance.
Import and export costs have been further reduced
In China, the port construction fee for import and export goods will be exempted in stages, and the compensate on fund for oil-pollution damage from ships will be levied in half. The port fee for goods and the port facility security fee will be reduced by 20% in 2020 respectively. The port construction fee will be exempted by RMB 15 billion for the whole year, and the port fee and port facility security fee will be reduced by RMB 960 million.
In 2020, the Customs earnestly implemented the tax reduction and fee reduction measures to ensure that policies such as reducing value-added tax for anti-cancer drugs and rare disease drugs were accurately implemented. Last year, the tax reduct on policy was reduced by RMB 104.25 billion; Fully support the resumption of work and production, help enterprises tide over difficult es, and approve 181 enterprises to extend the tax payment period by RMB 15.66 billion, and reduce or exempt the late payment fee by RMB 300 million. Promote the introduction of a tax-free policy for export returned goods due to force majeure in COVID- 19 pneumonia epidemic, and exempt and refund RMB 10.52 million for 188 enterprises;
For the year, the import tax concession under the FTA amounted to RMB 83.26 billion. Issued 10.49 million export certificates of origin, of which 5.204 million were issued under free trade agreements, which helped import and export enterprises enjoy preferential treatment in customs clearance.
Regulatory documents are further simplified
Simplification of Documents & Cancellation of Four Administrative Licenses
In 2020, China will continue to streamline the regulatory documents for import and export, and the regulatory doc uments that need to be verified in import and export have been reduced from 86 in 2018 to 41. Except for 3 cases that cannot be connected to the Internet due to the need of security and confidentiality,all other 38 cases can be applied online. On the  basis of  reducing some  administrative examination and approval items in the early stage, the Customs c ancelled four administrative licensing items , suc h as the registration of customs declaration enterprises, the filing and approvalof export food  production enterprises, the inspection license of import and export commodity inspection and appraisal business, and the qualification license of personnelengaged in entry and exit quarantine treatment business. At present, the fullcoverage pilot of the reform of "separation of licenses" for all enterprise-related business license matters has been started,the entry threshold has been further lowered, and the examination and approval service has been continuously optimized.